THE GROUN FLOOR AND THE CHAPEL
On the ground floor there are: the entrance-hall, where there was the coat of arms and it was practicable also by wagons when the Mansion was built; then there are the large halls where delegation were received and the FAMILY CHAPEL consecrated to Our Lady of Sorrows accessible either from the front door or from a short wooden step-ladder that take to the upper floor, namely to the private rooms.
The Family Chapel has a little stand for the baron family to attend liturgy.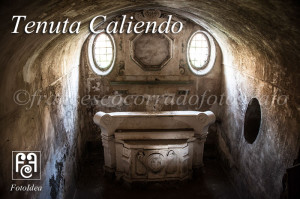 The scenography of the Mansion is conspicuous, from the entrance hall one can reach many courtyards following one another that form an elegant prospect into the greenery of the garden that extends along the slope of the hill lying behind. The arrangement of the garden dates back to the beginning of the 1800 and is formed essentially by big trunk trees and orchards. The garden was enclosed by walls with ironwork gates of exquisite workmanship but now there are only few remains.